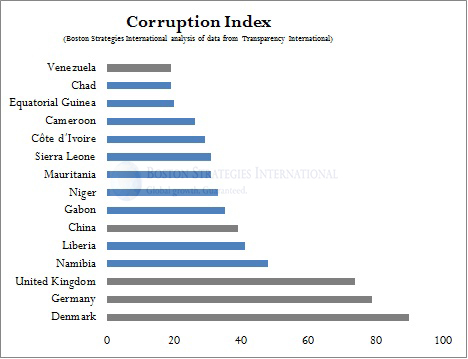 At first glance Liberia doesn't seem as corrupt as its West African neighbors – it received 41 out of 100 on Transparency International's Corruption Perception Index (higher is better; 90 was the best score and 8 was the worst). Many African countries with newfound oil reserves received similarly disturbing scores – Chad scored 19; Angola 22; Cameroon 26; Cote d'Ivoire and Equatorial Guinea 29; Mozambique, Mauritania, and Sierra Leone 31; Niger 33; Tanzania 35; and Gabon 38.
Still, Liberia has spent the past year dealing with scandals related to bribery of government officials by its oil company executives who tried, unsuccessfully, to push through a round of oil concessions with limited public consultation. Governance issues are not a unique story in West Africa.Nigeria delayed a 2012 round of oil concessions as foreign investors looked on skeptically, remembering the previous corrupt rounds (2005-2007) and fields that were acquired but left undeveloped. Also, Ghana issued multiple tenders for development of its refining (downstream) sector, but many projects were not approved, not started, or not completed.
While policy reforms can take years to implement, there is another way to attract investment and stimulate jobs and economic growth in the meanwhile: Liberia can build a strong local oil and gas supply capability. By training and developing local suppliers to be competent and capable, and institutionalizing transparent commercial practices, the government can lure investors and make it easier, quicker, and cheaper for NOCAL (the national oil company of Liberia) to do business honestly with efficient suppliers while increasing the difficulty, cost, and consequences of doing business corruptly with its cronies.
Boston Strategies International benchmarks local supply capability in a number of emerging oil, gas and power supply markets. Ask us how you stack up, and how we can help accelerate strategic and economically impactful local content development.